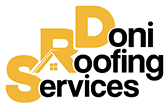 COMMERCIAL ROOFING SERVICES IN NEW JERSEY
WHERE QUALITY COMES FIRST
Doni Roofing in New Jersey is the area's leading roofing contractor for New Jersey commercial roof repair, commercial roof replacement, and new commercial roof construction. Regardless of the roof services your business, industrial building, or institution needs, Doni Roofing Company offers you superior customer service and prompt results.
No matter what the style of roof system you have, or the materials used in its construction, we can take a look and reliably figure out whether a repair or a replacement is in your best interest.
We know how to work with a variety of materials, including TPO, PVC and EPDM. We're experts in metal roofs, foam roofs, built up roofs, and more. Whether your roof is large or small, modern or aging, sloped or flat, we have the knowledge and expertise you need on your side.
Don't entrust your commercial roof to any company that hasn't put in the time and effort to build a solid reputation. We know that our success depends on your success—which depends on being able to conduct your business with as little disruption as possible.
Contact Details:
Phone: (973) 519-3417
Email: [email protected]
Website: doniroofingservices.com
Location: New Jersey